OUR FORMATS
---
The formats proposed on the site have been chosen carefully by Marc Progin and follow a specific ratio. However if you wish to acquire a photograph in a specific format do send us your request and we will do our best to help.
| SIZE | MAT | GLOSSY | EDITION* | PRICE in HKD |
| --- | --- | --- | --- | --- |
| 20.3 x 30.5 cm | | | Open edition, numbered | 400 |
| 30.5 x 45.7 cm | | | Open edition, numbered | 650 |
| 40 x 60 cm | | | 200 prints | 1,350 |
| 50 x 75 cm | | | 200 prints | 1,900 |
| 60 x 90 cm | | | 200 prints | 2,600 |
| 80 x 120 cm | | | 50 prints | 5,200 |
* Prices do not include shipping.
* Kindly note that few photographs are limited to 7 or 15 prints and subject to a different price.
---
ABOUT OUR HIGH QUALITY PHOTOGRAPHIC PRINTS
---
Our prints are all genuine proofs of high definition and printed on matt or glossy Kodak Endura photography paper. They are top quality prints. The reproduction, the sharpness and the contrast are optimal and ensured by the use of the light jet laser beam system.
Each of our prints comes with a white margin to allow you to matt your print easily should you choose to do so.
---
HOW DO I KNOW THIS IS AN AUTHENTIC PRINT?
---
A numbered certificate of authenticity will be sent to you by email when your purchase is shipped. Should you require a printed certificate instead of a soft copy, please inform us and we will ship one to you.
---
HOW DO YOU PACK FOR SHIPPING?
---
The print is wrapped in tissue paper before being rolled into a rigid tube in order to guarantee its protection during transportation.
---
HOW DO I FRAME MY PRINT? DO YOU OFFER FRAMING OPTIONS?
---
All our prints come with a white border allowing you to frame it easily with a matt.
Unfortunately we do not provide framing options online right now. We are working on it and will inform you when we launch should you sign up for our newsletter. In the meantime if you have a special request do send us an email and we will do our best to find solutions to help with framing.
In order to protect your print from deterioration from humidity and UV rays, we highly recommend you have it framed. Below are some tips on framing.
TIPS FOR FRAMING YOUR PHOTOGRAPHS
---
FOR SMALL FORMAT PRINTS , MOUNTING ON POLYMER / FOAMBOARD
---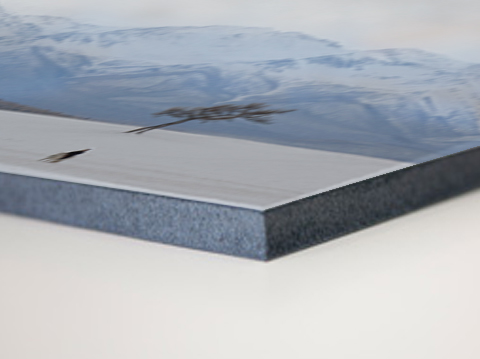 An original and discrete finish ideal only for small format works.
 The print is covered with an anti-reflection film which protects it from deterioration from humidity and UV rays.
 It is stuck without overlap on a 3 to 5 mm thick polymer sheet which allows the rigidity of small size prints to be perfectly maintained. A hook allows it to be directly hung on the wall.
---
FOR ANY PRINT FORMAT, GLASS FRAMING
---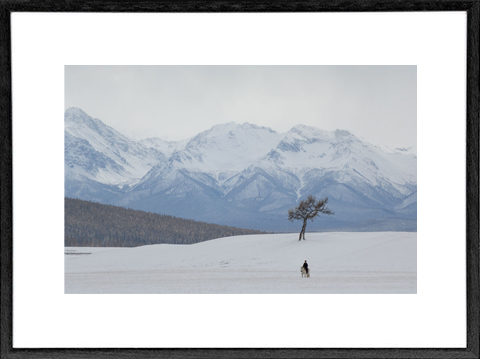 Framing a print behind glass allows it to be magnified by isolating it from its surroundings thanks to a matt. 
The print is inserted in a frame, protected by thick framing glass.
A PH neutral matt allows the photograph to be protected from contact with the glass and to therefore avoid any risk of condensation.
---
FOR MID TO LARGE FORMAT PRINTS, ALUMINIUM MOUNTING WITH ACRYLIC
---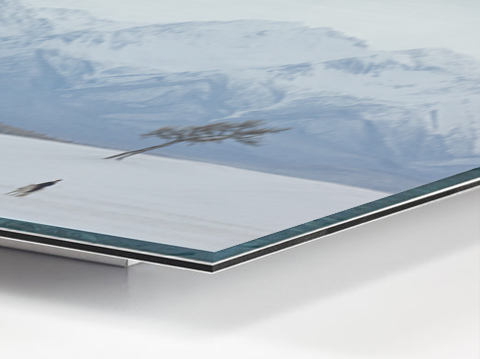 A finish guaranteeing an optimum protection of the work of art and emphasizing the colours and contrasts. It is the most suited technique to conserve a very large photograph perfectly flat in the long term.

 The print is covered by an acrylic sheet. A reaction between the two liquid components causes adhesion, without glue. The print is protected perfectly and acquires depth, radiance and the intensity of the colours is emphasized.
 It is stuck without overlap on a composite aluminium sheet (Dibond, Alucobond, or Tubond). This fine and light material, composed of two layers of aluminium surrounding a polyethylene core
A thick rectangular frame on the back of the sheet makes the structure more rigid and easier to hang the photograph separating it from the wall.